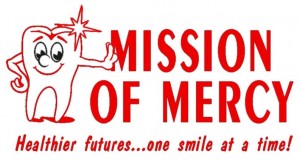 28 Arlington Mill High School students woke up early before 6:00am on Saturday, March 12th, to take advantage of a free dental clinic called Mission of Mercy. The program, created by the Virginia Dental Association, provides uninsured and low-income adults with high-quality dental care during a two-day event at the Northern Virginia Community College Medical Education Campus in Springfield, VA.
With support from the Arlington County Department of Human Services, Communities In Schools of NOVA was able to register and refer students to Mission of Mercy for cleanings, teeth fillings, and other important dental needs. Volunteers and dentists from the Northern Virginia Dental Society provided dental treatments to students and gave vital information on maintaining healthy teeth.
In an effort to ensure students arrived on time, the CIS Site Coordinator connected with the Arlington Career Center Teen Parenting Program Counselor to secure a bus for students who needed transportation from Arlington to Springfield. The South Arlington Kiwanis Club even generously donated funds to provide free breakfast, drinks, and snacks for students attending the bus ride to Mission of Mercy. After their check-up, the students were excited to return back to school with their brighter and larger smiles.