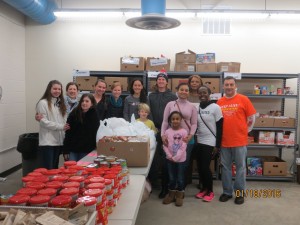 Francis C. Hammond Middle School is now one of the newest participants in the Blessings In a Backpack (BIB) program, thanks to the new partnership between Communities In School of NOVA, the United Way of the National Capital Area, ALIVE (ALexandrians InVolved Ecumenically), and the Alexandria Food Center.
As the country honored the great Dr. Martin Luther King, Jr. on January 18th, we celebrated his legacy by launching BIB at Francis C. Hammond Middle School. Over 12 volunteers gathered at the Alexandria Food Center and worked diligently to pack 200 weekend backpacks for students at Hammond. These backpacks will be distributed to 50 students each week to assist with additional food support during their time out of school.
We are extremely thankful to our partners and excited to start this program that will help our students face that frightening question of "What am I going to eat this weekend?" This is just the start! If you are interested in volunteering during one of our packing days, or interested in making food donations to our program, please reach out to our CIS Site Coordinator at isabel@cisofnova.org. We would love to hear from you!