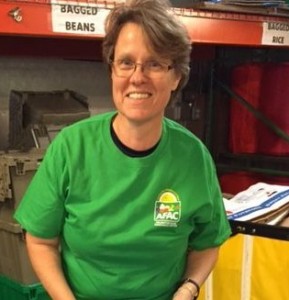 The Arlington Food Assistance Center (AFAC) has been serving Arlington County residents in need of supplemental groceries for over 25 years. With the weekly assistance of a small army of volunteers, AFAC distributes nutritious food to over 2,200 county residents each week. About 35% of those who receive food from AFAC are children.
Barcroft Elementary is the most recent school that AFAC has partnered with to provide students in need with supplemental meals. Through the Backpack Buddies Program, students may receive a bag of groceries to take home with them on Friday afternoons. Each bag contains two days worth of nutrition (six meals, plus snacks), enough to sustain them through the weekend and ensure they are well-fed and ready to learn when they are back in the classroom Monday morning.
CIS of NOVA is proud to partner with AFAC to ensure students in need of food assistance receive support. In addition to Barcroft, Gunston Middle School, the Arlington Career Center and Wakefield High School distribute Backpack Buddies for a combined estimated total of over 135 students served per week. Dedicated AFAC volunteers deliver the bags from AFAC to the schools, then bags are labeled, packed, and delivered to individual students by CIS of NOVA Site Coordinators at each school.
Interested in learning more or helping out with a school site distribution? AFAC and CIS of NOVA are looking for volunteers! Contact elizabeth@cisofnova.org for more information.