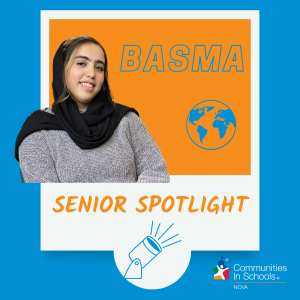 Basma believes that every kid deserves the opportunity to learn. She studies fiercely, knowing no one can take away her goal to graduate and become a successful entrepreneur. Basma understands that she can shape her future by staying focused on her dreams and working hard to achieve them. She plans to travel the world and help others, ultimately choosing a career that will allow her to leave a positive mark on the planet. She realizes her dreams are attainable; even if the path to getting there has sometimes been rough, her belief in herself remains strong.
Basma and her family originate from Afghanistan; she comes from a large family of eight, including four siblings. She describes her family as supportive and fun. But there has been some culture shock with the transition in Virginia. When Basma first started school in the U.S., she had no idea that students of all genders would share the same classrooms; this was not customary in Afghanistan, and it took her some time to get used to. She feels safe and comfortable at school now. She finally feels like she belongs to a community that cares for all students alike.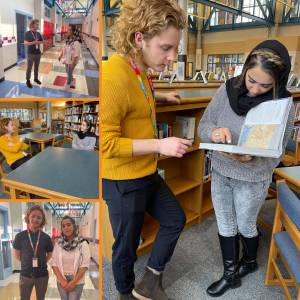 When Basma was first learning English in the U.S., she certainly didn't expect to want to learn more languages; she was trying to adjust to learning English, and that felt like a big enough feat. She quickly discovered a love for languages and other cultures and is now also learning Spanish and Turkish, which she enjoys very much. Speaking multiple languages will undoubtedly be an asset to her when she travels around the world.
Basma receives geometry tutoring help from Mr. Alec at the International Academy (also known as the IA) at Alexandria City High School. The IA is a genuinely diverse academy where English Learner students receive specialized support and strategies to help them achieve graduation success. The Communities in Schools approach fits perfectly into the academy, where students gain further wraparound support. Everyone's goal is simple: help students get on a path to achieving their dreams.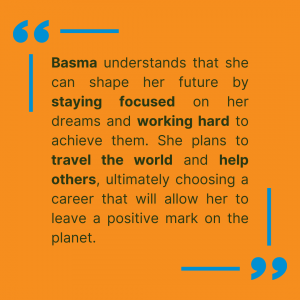 One of Basma's goals is to earn an A+ in her geometry class. There's no doubt that she can achieve that and anything else she desires in life. She believes in herself and has a team that does too. Basma is encouraged by her educators and her CIS Site Coordinator, Mr. Alec, who supports her every step of the way. Bill Milliken, the founder of Communities in Schools, once said, "Young people thrive when adults care about them on a one-to-one level and when they have a sense of belonging to a caring community." Caring adults and a caring community are at CIS's core, and it also resonates with the IA environment.
Basma hopes other students will feel the same sense of caring community she has felt at ACHS. She also hopes kids worldwide can follow their dreams. She plans to pay it forward one day and be a part of a caring community believing in and supporting–other students like herself.
Over the following months leading up to graduation, you will learn more about Basma and others through the Senior Spotlight series, where we will follow along with our seniors during their final year of high school.