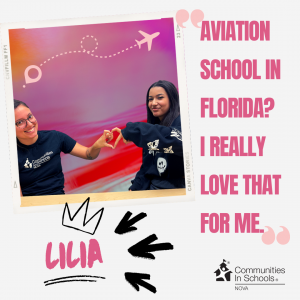 College admissions decisions are right around the corner! What if I don't get in? Not knowing is kind of nerve-wracking. My friend and I plan to record our admission letter openings together, and I'm excited to see what happens. Applying to my top school took courage. Aviation school in Florida? I really love that for me.
I applied to several schools, so I'll be happy with whatever happens. If I don't get in, I'll keep trying. There's so much opportunity out there, and I have an amazing support system that's always got my back. They believe in me, and I BELIEVE IN MYSELF.
Balancing school and work can be a lot. I'm doing good, though, and Jackie is always there for me when I need to vent. I see her almost every day at Wakefield. I wish every student had a person like Jackie at their school; her support is so important to me. I started bringing my friends to see Jackie, and they really liked her vibe. We feel safe with her. I trust her, and I know she cares about her students.
Both of my parents are really supportive of me and are happy for me no matter what. I'm thankful for everyone in my life, including my little sister, who is my best friend. I'm a year older than her, and she'll graduate the year after I do. I can't wait to see where life takes us. I know we will succeed.
When decisions come around, I'm ready for whatever happens. I'm going to be a little nervous, but more than anything, I can't wait to start college and enter my new era. March can't come soon enough!!!