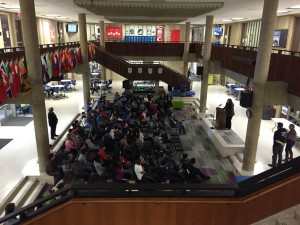 By Cristian Pineda, Arlington Mill High School CIS Site Coordinator
Before the first bell rings at 8am, the Arlington Career Center is filled with over 1,000 students coming from all over Arlington County. There are students who come from other high schools to take the career and technical classes, those who stay here full-time in the special programs of the school, and there even is Arlington Mill High School based inside the Career Center. It is a buzzing bee's hive, and while all the students are worker bees in their own respective way, their differences are what unite them as future leaders of tomorrow.
With over 70 staff members at the Career Center and over 40 staff members at Arlington Mill High School, students are in good hands knowing that they have the resources they need. While they share a building, both schools function very differently in order to cater to the needs of their students. And running the nucleus of the building are the students themselves, ranging from all ages, cultures, and identities.
Yet, as different as the approach is per school, many of the students in all divisions share the same story. Many work jobs full-time on top of taking classes at the full capacity. Others are expectant mothers and fathers, raising children on their own, or even living on their own. Some identify as English language learners, low-income, or undocumented, restricting access to basic resources needed to live the day-by-day necessities. And while these challenges may make the road to success a bumpy one, their perseverance to obtain their education is what pushes them on. It's what pushes me to do everything in my position to empower them to reach success inside and outside of school.
Arlington Mill High School and the Arlington Career Center mirrors the community of Arlington County. The population reflects the constant hustle and flow, the blending of languages and cultures, and the strong relationship building. For me, it is very motivating working with this population as a CIS Site Coordinator, and while it encourages me to creatively connect the student with support staff and community resources, it also empowers me to echo the drive these students have in my own personal life.