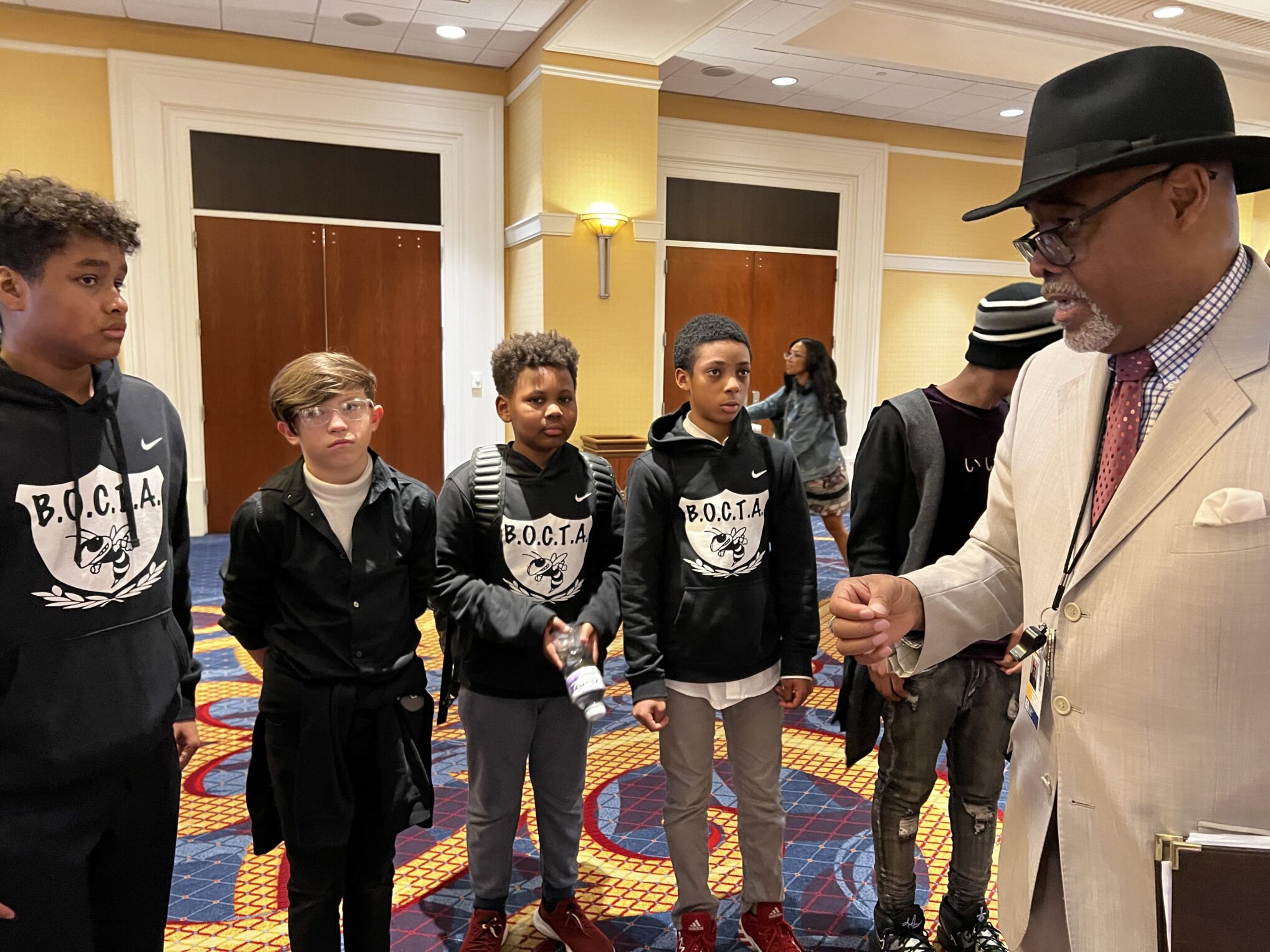 At CIS NOVA, we believe providing opportunities for our students to learn, grow, and succeed is essential to their future success. That's why we were thrilled that the Gunston Middle School BOCTA group (Boys of Color TA) attended the Black Engineer of the Year (BEYA) awards at the Gaylord National Resort & Convention Center. The BEYA recognizes African American scientists and engineers around the country who are shaping the future of science, technology, engineering, and mathematics (STEM) and promotes diversity and inclusion in the STEM pipeline.
Led by Mr. Darrien, Gunston's CIS NOVA site coordinator, and thanks to the advocacy of the Gunston director of counseling, Dr. Bruce, the BOCTA group represented Gunston, CIS NOVA, and the Arlington community with pride, impressing everyone with their enthusiasm and passion for learning. The BOCTA group was the only middle school group at the event, and the youngest representatives, making their attendance even more impressive!
The event included a symposium with a keynote speaker and dinner, and a Q&A with army engineers about career opportunities. The BOCTA group did their formation in front of the ROTC and the military, setting the tone for the military groups to follow their lead and do their formations. One of the BOCTA students, Miles, shared that his takeaway from the event was that he "didn't know this many brown people could be in charge." He also stated, "I see what you guys have been telling us," highlighting the importance of representation and exposure to successful black professionals.
Last year's 2022 Black Engineer of the Year, Ted Colbert, spoke at the event and stated: "Growth and innovation are possible by challenging our assumptions and learning from the experiences and perspectives of others." We couldn't agree more, and we believe that events like the Black Engineer of the Year awards showcase the achievements of black professionals and inspire young people to aim high. This year, we are proud to hear that Abdul Mohamed, a researcher from the U.S. Army Engineer Research and Development Center (ERDC), was chosen to receive a 2023 Black Engineer of the Year Award (BEYA).
Empowering students to achieve their dreams is at the core of CIS NOVA's mission. As an organization, we are committed to promoting black and brown excellence and empowering students to learn, grow, and succeed. We hope their attendance at this important event will inspire them to continue to pursue their dreams and achieve their goals.