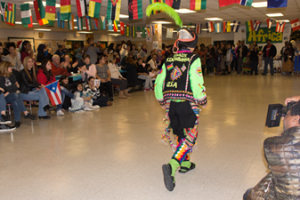 Gunston Middle School held a magnificent International Night on Wednesday, December 16, 2015. From 6:30pm to 8pm, the Gunston community explored different countries and cultures through student projects, international dishes brought by families, and student-led performances. The outstanding performances included a Fashion Show planned by an enterprising group of 7th grade girls led by Gunston drama teacher, Caitlin Chapuis, which had 30 students model their cultural clothing.
There was an amazing example of Bolivian Tinkus dancing from the famous Tinkus Cochabamba Bolivian Dance Troupe, where two students participated. A pair of Gunston 8th grade girls gave a sample of Irish dancing and breathtaking costumes, and the Gunston chorus, led by Jessica Wood, performed two songs. The school closed out the night with a Gunston father-daughter pair of steel-drum players from Trinidad and Tobago.
This event was a labor of love and collaboration not only among the faculty and staff, but also the students. They spent many afternoons decorating the cafeteria to transform it into an international wonder, brought in cultural objects, flags, and created delicious dishes representing their countries and cultures to share with all attendees. It was a wonderful way to end the year, and start the holiday break!