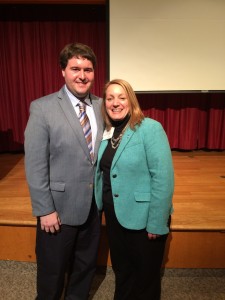 By Dan Howard, Wakefield High School CIS Site Coordinator
I recently finished the Young Professionals program through the Leadership Center for Excellence's Leadership Arlington. Over the past four months, I participated in workshops and seminars focused on developing leadership skills, learning about civic engagement in Arlington and interacting with my peers and regional leaders. On Tuesday, January 12th, I graduated from the program as a proud member of the Young Professionals Class of Fall 2015, ready to bring my new found knowledge and tools back to Wakefield High School and CIS of NOVA.
One particular session focused on finding your "Why?", an idea popularized by author Simon Sinek. Mr. Sinek defined "Why?" as the purpose, cause or belief that inspires you to do what you do. While my personal Why? took some time to fully articulate, this session allowed me to reflect on the tremendous work that our volunteers do with CIS of NOVA on a daily basis. Too often, we are bogged down with the Whats, Hows, and Whens of life, and ignore the all important "Why?". As we move into the second semester of the school year, I ask all current and future volunteers to share their Why? with our Site Coordinators, and discuss with one another what drives you to volunteer with CIS of NOVA.
Thank you to Leadership Arlington for the excellent experience this Fall, and thank you to all of our volunteers for sharing your time and talents with our students and schools!