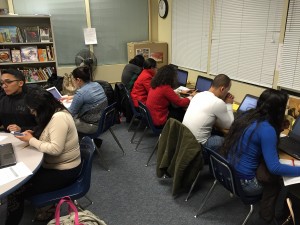 While many students are worried about their end-of-year prom, SAT scores, or passing their driver's tests, other students are focusing on balancing their schoolwork, full-time jobs outside of school, and even about feeding their families and children. Arlington Mill High School students are composed of members from around the Arlington community and come from around the world. And while many students county-wide face struggles every day, Arlington Mill students face unique challenges that have gone unnoticed and untold.
To bring their stories out to the community, CIS of NOVA is beginning their new campaign titled "I Am Arlington" as a way to highlight success stories of students, moments of triumph, and capture partnerships and collaborations of our communities and students, beginning with Arlington Mill High School.
"There are so many stories and so many voices that need to be shared in the community," says Cristian Pineda, CIS Site Coordinator at Arlington Mill. "It's important for the community to hear the untold stories and successes of their own members."
Several students have began sharing their photos being around the community, working at their jobs, engaging in community projects, and even with their families. CIS of NOVA hopes to share the stories of their students at all of their schools, including Wakefield High School and Gunston Middle School.  The "I Am Arlington" campaign will also include videos, pictures, and quotes from community partners, volunteers, and school staff.