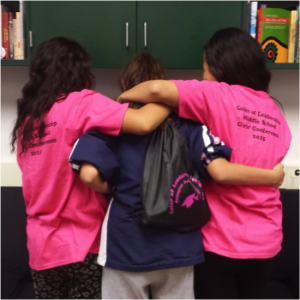 This past Saturday, November 14, over 200 middle school girls from across Arlington gathered at Wakefield High School for the Color of Leadership Conference: A Female Perspective, "Get Moving with STEAM!" through the Office of Minority Achievement. Girls participated in two career talks with STEM professionals and the afternoon was dedicated to the arts through martial arts training, dance and step lessons, and vocal exercises.
Many girls enjoyed the nuclear and materials engineers' presentations, where they got to create fizzy bath bombs and imagine new construction uses for everyday materials. After a recharging lunch, the girls had the opportunity to learn amazing self-defense moves from trainers at MiKiDo Martial Arts and Kuk Sool Won Martial Arts studios. The girls finished out the day with a sisterhood ceremony, where they were given a flower with a personality trait and encouraged to reflect on how they embody that positive trait.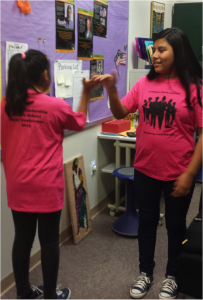 Communities In Schools of NOVA was able to chat with some Gunston 7th grade girls about their experience at the conference. "It was awesome to be able to hear from these women about their jobs and how they got there!" exclaimed Jayra, as she recounts her favorite parts of the day-long experience. Her friend nods, adding, "It was really nice to be able to spend time with friends from other school we don't always see, and we had a lot of fun with the karate and dance lessons too!"
Middle school boys will have a chance to have these experiences at the Color of Leadership Middle School Boys' Conference in the Spring of 2016.